Before explaining why it is important to have a Landini Parts Catalog, let's first discuss some general issues. Landini Tractors provide most of the muscle power needed for today's high output agricultural enterprises. They are more useful on farms than any other piece of equipment or machines. We also use them to carry mounted and semi-mounted implements. Also to transport equipment and materials, to pull tillage equipment and wagons and as remote power sources for other equipment.
Manufacturers are continuously improving the design and their capabilities of tractors to make them more safe and powerful. However, they are unable, as yet, to build in mechanisms which recognize unsafe conditions or broken parts. Tractor operators who know their machine and are aware of the hazards which may occur, are better equipped to avoid a tractor mishap or to destroy it completely.
We Recommend Checking The Tractor Before Operating
A pre-operational check of the tractor will assure you that it is in safe operating condition. Check the windows for visibility, seat position, seat belts, brakes for adjustment, steering response, rear view mirrors, tires for proper inflation and defects, slow-moving vehicle emblem, reflectors, and running lights for night time operation.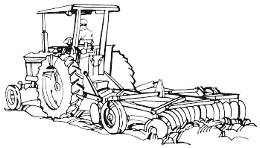 ☑ Oil level
☑ Radiator
☑ Air pre-cleaner and air cleaner
☑ Fuel level
☑ Engine
☑ Fire extinguisher
If you want more details about this procedures, check out our ePartsManuals YouTube Channel.
After regular inspection, you may find that some parts are too worn or even damaged that can affect performance and your safety!
What do you have to do now?
Any noted defects should be corrected immediately and now comes the need for a Landini Spare Parts Catalogue. There you will find absolutely all the necessary explanations to detect the worn part, take it down and replace it with an original one. You will find many detailed images explaining the repair procedure.
Landini Parts Catalog is a must have for any farmer. These manuals for tractors contains wiring diagrams, detailed pictures, explained repair procedures. Also you will find many tables that contain the code of all the tractor parts in order to be able to order new ones from the internet.
Note: Make sure that when you order Landini parts (pieces) from the internet, you provide as much information as possible such as: the machine model, serial number, machine code, part code, part description and desired quantity.
In the 21st century, everything is simpler and easier. Now you can be your own mechanic because you won't have to be a professional to replace some worn parts. All you need is a Landini Tractor Manual, a laptop or a tablet where you can view Parts Catalog PDF. Next, all you have to do is find the broken parts, order new ones from the internet based on the codes for the original parts. Then with the help of the information in the manual, you can proceed to change the parts. This will save you time and money.
Why is better to get Landini Parts Catalog in PDF format than in physical format?
The reason is very simple. We will explain the reasons below.
If you want that manual in physical format, you have to pay for the transport and waste your time waiting for it.
2. But if you want that manual in PDF format, you will get it in a few seconds until the manual is downloaded from our website. After that you can use it directly on your smartphone, tablet or laptop. Or if you have a printer, you can print it as many times as you want (in sections or even the entire manual).
It will always be saved on e-Mail and on your device. You make sure that you will never lose or destroy it again.